Professional Toilet Repair and Installation in Bastrop & Austin, TX
There is nothing more frustrating than a clogged or running toilet. It can disrupt your everyday life and lead to messy overflows and unsanitary conditions. If you find yourself experiencing such conditions with your toilet, call a professional plumber for toilet repair services.
For home and business owners in the Austin and Bastrop areas, Austen Plumbing Company is one of the most trusted plumbing services providers. With over 18 years of experience, we are proud to offer a comprehensive list of plumbing services ranging from drain cleaning and water heater repair, to water purification filtration and backflow testing. Call us today in Travis County or contact us online for all of your plumbing needs.
A Look at Our Toilet Repair & Replacement Solutions
There are a number of situations that might warrant toilet repair from a plumbing professional. Clogs, leaks, and worn out or broken parts are the common issues that most individuals generally face. Austen Plumbing Company can address these problems promptly and effectively. Additionally, if you need a new toilet installed or are in the process of renovation, we can assist.
While some minor plumbing repairs can be completed by homeowners, toilet repair services and stubborn clogs are best served by professional plumbers.
Toilet Clog Repair
Toilet clogs are common among homeowners and business owners. Minor clogs may develop in toilets with weak flushing power. In this case, you may notice that your toilet may require frequent plunging. In other situations, a clog may occur as the result of a foreign object being flushed down the toilet. In either case, toilet repair or replacement may be the only solution. Our plumbers will assess and recommend the best toilet repair option that provides a long-term solution. We not only clear clogs, we prevent them from recurring.
Leaking & Running Toilet Repair
Common symptoms of a running or leaking toilet include continuous water flow or filling at random intervals throughout the course of a day when not being utilized. Typically, we find the culprit to be an aged, or worn flapper or fill valve assembly. At Austen Plumbing Company, we adhere to a strict water conservation policy. It is our intention to combat wasteful water usage via or toilet repair incentive program. Contact us now for you FREE flapper.
Low Flow & Efficient Toilet Installation
If you are interested in replacing your toilet, or upgrading to a water conserving toilet fixture, we can help. Our plumbers ensure quality workmanship and have the knowledge and experience to accomplish the task within a few hours.
If you are concerned about water usage and protecting the environment, installing a new low-flow toilet can help conserve water. These innovative toilets use fewer gallons of water compared to older designs while delivering equally good flushing power. There are many makes and models of low-flow toilets available on the market. We can help you select one that meets your requirements and budget.
Get a Free Toilet Repair Quote Today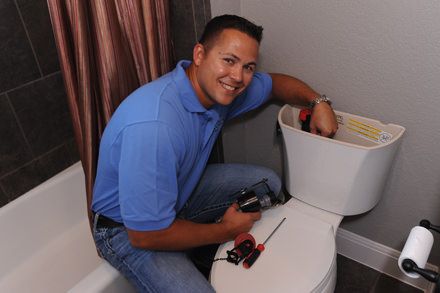 You can trust Austen Plumbing Company to handle all of your toilet repair and installation needs. We charge by the job; not by the hour! You will know the exact cost of plumbing service prior to the work being conducted. Our honest communication and service has made us one of the most preferred plumbing services in Bastrop and Travis Counties. Contact us today in Travis County.
Services Areas
Bastrop County
Bastrop
Smithville
Elgin
Travis County
Allandale
Austin
Balcones Woods
Barton Creek
Barton Hills
Cedar Park
Circle C Ranch
Clarksville
Davenport
Driftwood
Far West
Great Hills
Hyde Park
Northwood
Oak Hill
Pemberton Heights
Rollingwood
Shoal Creek
Steiner Ranch
Tarrytown
Travis Heights
Westlake
Zilker
Williamson County
Round Rock
---
Austen K. Smith
Master Plumber
License #M-38347