Sewer and Drain Clog FAQs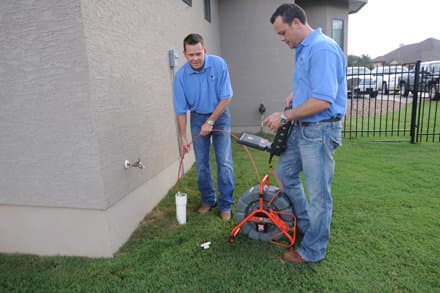 Sewer and drain clogs are common problems that can occur in households everywhere. Clogs in your sewer and drain occur when the water flow is interrupted due to a blockage of some type. These blockages can result from the accumulation of grease, paper towels or toilet paper, large quantities of food, and hygiene products. When clogs occur in your sewer or drain, water flow can stop completely or you may notice slow draining and frequent backups.
If you are experiencing sewer and drain clogs, it is recommended that you address the problems quickly by calling expert plumbers.
Understanding & Preventing Sewer & Drain Clogs
At Austen Plumbing Company, we receive many questions from our clients regarding sewer and drain clogs. Quite often, these questions are "What is the cause a clog?", or "What measures can I take to prevent clogs?". The following are some answers from our expert plumbers.
How Can I Prevent Sewer and Drain Clogs?
The following are a few simple steps that can save you a lot of stress and help you prevent clogs from occurring in your sewer line or drain pipes.
For all drains without garbage disposals, remove all leftover food from your plates, pots, and pans and dispose of this in the trash before washing the dishes.
If you have a garbage disposal, run hot water down the drain for several minutes after running the disposal to flush the drainage system of any food particles.
Only human waste and toilet paper should be flushed down your toilets. If you commonly experience clogs and problems, you may need to use single-ply toilet paper to keep the sewer and drain free from blockages.
Do not use acid based products or chemicals when cleaning a clogged sewer and drain, as these harsh products can cause corrosion to your metal pipes and plumbing.
Learn more about how you can prevent a clogged drain with our Drain Maintenance Tips.
How do roots infiltrate my sewer pipe?
Older sewer pipes typically deteriorate and develop small cracks over time. As small cracks form along the walls of the pipe, small amounts of water are leaked out. Small tree roots tend push their way into these cracks in search of water. As the roots grow over time, they become large obstructions in the pipe, therefore, causing a number of problems.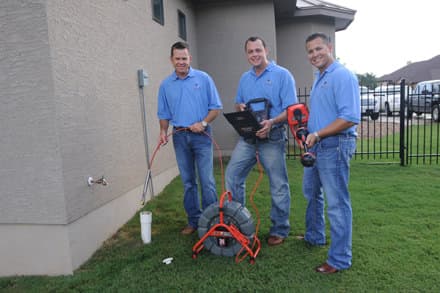 Should sewer lines be snaked regularly even if they are not backing up?
Preventive Maintenance is a recommended practice to maximize the life expectancy of your sanitary system. While snaking and video inspection are not required if you are not experiencing any problems, these services can help give you peace of mind and prevent failures before they occur. Snaking and video inspection services can be performed once a year in order to ensure that your sewer pipes are clear of roots and other debris. It is a good idea to have the sewer and drain lines inspected for deficiencies when moving into a new house.
How long does it take for roots to grow back after snaking of a line?
This depends on many factors, such as the time of the year, the size of the roots, and the kind of trees and plants that are growing near your house. However, on an average, it takes about a year or two years for tree roots to start growing back after thoroughly removing them. You can also use root annihilators like copper sulfate to slow down the growth process.
How do sewers and drains get clogged even if they are properly maintained and kept clean of foreign objects?
Even if you take all of the recommended steps to prevent clogs, your sewer and drain may eventually become clogged. Despite frequent maintenance, small food particles, grease, and other substances can accumulate to form a bigger block.
Small particles and substances such as grease, fat soap, toothpaste, shaving cream, and lotions even in small quantities can stick to the inner sides of the sewer and drain walls. Over time, these particles can clump together, resulting in a blockage.
Austen Plumbing Company Can Address All Your Sewer and Drain Problems
Austen Plumbing Company has over 18 years of experience in the plumbing industry. Based out of Bastrop, TX, we are a well-known name in the Austin metropolitan area, serving Travis and Bastrop Counties. Our dedicated and experienced professionals can take care of all of your residential and commercial plumbing needs including cleaning sewer and drain clogs.
To learn more about how our experts can help you with all of your sewer and drain problems or for expert answers to your questions, contact us today in Travis County.
Services Areas
Bastrop County
Bastrop
Smithville
Elgin
Travis County
Allandale
Austin
Balcones Woods
Barton Creek
Barton Hills
Cedar Park
Circle C Ranch
Clarksville
Davenport
Driftwood
Far West
Great Hills
Hyde Park
Northwood
Oak Hill
Pemberton Heights
Rollingwood
Shoal Creek
Steiner Ranch
Tarrytown
Travis Heights
Westlake
Zilker
Williamson County
Round Rock
---
Austen K. Smith
Master Plumber
License #M-38347