Professional Drain Clog Repair in Austin, TX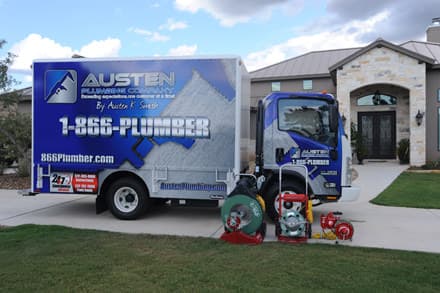 Drain clogs can occur for a number of reasons. Whether it is a clogged drain in your kitchen caused by food particles or a hair clog in the bathroom, clogged drains can be a major issue. If you are experiencing a drain clog that has completely or partially blocked your drain, there are a number of ways you can attempt to resolve the issue. While some times at home drain clog solutions can help in the short term, it is often necessary to contact a professional plumber to permanently resolve the issue.
Why Choose Our Drain Clog Clearing Services?
Austen Plumbing Company provides 24 hour emergency and routine plumbing services in and around Travis County and Bastrop County. With over 18 years of experience in the industry servicing homes and small business, our primary goal is to develop a loyal customer base that relies on our expertise and affordably priced services.
Whether you have a completely blocked drain or a drain clog that is causing slow draining, we offer drain clog clearing services to repair your drains and have them working like new again.
Expert Drain Clog Cleaning Techniques Used by Austen Plumbing
The professional plumbers at Austen Plumbing Company will assess your situation carefully before performing any services to treat a drain clog. We have many drain clog clearing approaches that we can take, and careful planning ensures that we take the right approach to safely remove the clog and resolve issues completely.
Here are some of the common techniques we use to unblock pipes and clear clogged drains.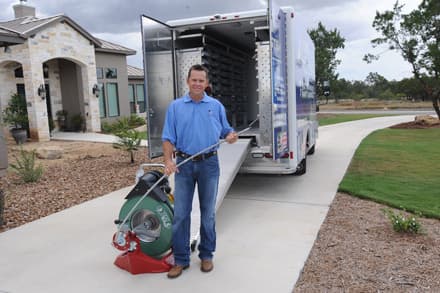 Plunging: Plunging is a classic remedy used to unclog drains. This drain clearing technique involves using a plunger to force clogs and blockages out of drain pipes, allowing them to flow freely. Plunging is a fairly simple process that can be completed by homeowners or our professional plumbers.
Low-Impact Drain Cleaning: This technique is simple, effective, and affordable. It is ideal to remove debris that is causing minor clogs and slow moving drains, and can be performed by our professionals and even homeowners. Low impact drain cleaning involves sprinkling one cup of baking soda down the drain clog. After this, one cup of heated vinegar should be poured down the drain. After about five minutes, the pipe should be flushed with hot water. This process may need to be repeated several times before the drain clog is completely removed.
Chemical Drain Cleaning: Another way that our plumbers can clear clogs is to use specially formulated solutions that provide thorough and quick-action cleaning for clogged drains. However, a major downside to this is that these chemical solutions can be harsh or toxic if they come into contact with your skin. These chemicals may also be harmful for your pipes. Therefore, it is best to let our professional plumbers at Austen Plumbing handle your drain clog cleaning when it comes to chemical solutions.
Drain Snakes and Hangers: Not all clogged debris can be easily dislodged with the help of cleaning solutions and plunging. Some of the tougher clogs require thorough scraping and clearing using metal hangers or snakes that can be pushed deep down into the drain. This process should usually be performed by professionals who have experience snaking drain clogs.
While you can complete many of these drain clog clearing methods yourself, in the case of stubborn clogs, your attempts may be unsuccessful. If you find yourself with stubborn clogs, it is best to call the professionals.
Experiencing Drain Clogs & Issues? Contact Our Plumbers Today For Help
If you are experiencing drain clog issues or slow moving drains, let the professionals at Austen Plumbing Company provide their expert advice. We can evaluate your clog and recommend a quick, efficient, and affordable solution. Call us today in Travis County or contact our plumbing company online. We look forward to serving your drain clog repair needs.
Services Areas
Bastrop County
Bastrop
Smithville
Elgin
Travis County
Allandale
Austin
Balcones Woods
Barton Creek
Barton Hills
Cedar Park
Circle C Ranch
Clarksville
Davenport
Driftwood
Far West
Great Hills
Hyde Park
Northwood
Oak Hill
Pemberton Heights
Rollingwood
Shoal Creek
Steiner Ranch
Tarrytown
Travis Heights
Westlake
Zilker
Williamson County
Round Rock
---
Austen K. Smith
Master Plumber
License #M-38347