Plumbing Repair Services in Austin & Bastrop, TX
Plumbing systems and components in your home can malfunction at the most inopportune times. For example, the mechanical parts of a plumbing fixture may break, or a clog may develop in the sanitary drainage system. Although minor in nature, these inconveniences are best remedied by a qualified plumbing repair specialist.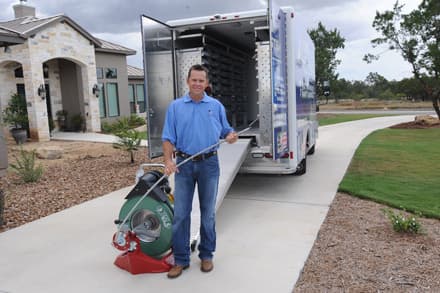 At Austen Plumbing Company, we understand that untimely plumbing repair can be a burden to your work schedule and budget. We offer prompt, and professional plumbing solutions to address any problems you may be experiencing and affordable rates that will appease even the most demanding customers. Our plumbing repair services are rendered to small businesses and residences in both Travis, and Bastrop Counties.
Call our plumbers today to learn more about any of our plumbing repair services or to schedule a service call.
A Look at Our Plumbing Repair Services
The plumbers at Austen Plumbing Company are well equipped and trained to handle all types of plumbing repair work. We diagnose the problem accurately, recommended solutions, and perform the task in professional manner.
Types of plumbing repair services we offer include: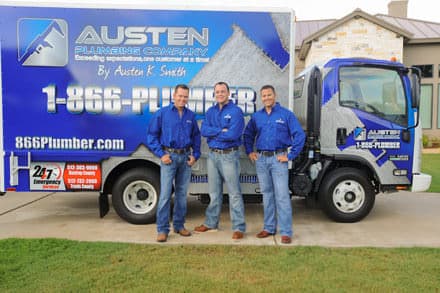 Drain Cleaning: A drain clog can create unsanitary conditions if left unaddressed. However, the good news is, some simple homemade solutions can clear low-impact clogs. In more severe circumstances, it is often necessary to seek the expertise of a professional plumber. If you have a clogged shower, sink, toilet, or sewer drain, contact us to schedule an immediate consultation.
Slab Leak Repair: Slab leak repairs are a specialized type of plumbing repair that is becoming more and more prevalent as houses are built on a concrete slab foundation. When a structure is built on a concrete slab, the water lines are placed under the cement and due to soil acidity the copper can leak. This condition can lead to foundation problems, high water and electrical bills and structural damage to your home. Water and sewer leaks under the slab of a home can go undetected for long periods of time, causing permanent damage to your house.
Sewers: There are many common causes of a clogged sewer. However, even when preventive measures are taken, sewer clogs may still occur. If you experience a problem, contact us immediately for quick and effective plumbing repair solutions.
Pipe, Faucet and Toilet Repair: Plumbing problems such as burst pipes, leaking faucets, and clogged toilets can affect water pressure, cause damage to your personal property, and interfere with your day-to-day routine. The plumbing repair specialists at Austen Plumbing Company are standing by to address your immediate concerns.
Plumbing Repair: Rely On Our Experience
At Austen Plumbing Company, we are experts when it comes to plumbing repair in Austin and Bastrop, TX. We have over 18 years of experience supplying plumbing repair services for residential homes and commercial businesses in the area. We can provide an honest assessment of the problem and give you a fair quote for any plumbing repair or service you require. You can count on us for excellent workmanship, quick service, and courteous interactions.
Contact Us for Plumbing Repair Solutions
Contact Austen Plumbing Company in Travis County to address your plumbing repair requirements. As a leading plumbing company in the area, we are confident about exceeding your expectations!
Services Areas
Bastrop County
Bastrop
Smithville
Elgin
Travis County
Allandale
Austin
Balcones Woods
Barton Creek
Barton Hills
Cedar Park
Circle C Ranch
Clarksville
Davenport
Driftwood
Far West
Great Hills
Hyde Park
Northwood
Oak Hill
Pemberton Heights
Rollingwood
Shoal Creek
Steiner Ranch
Tarrytown
Travis Heights
Westlake
Zilker
Williamson County
Round Rock
---
Austen K. Smith
Master Plumber
License #M-38347