Expert and Professional Plumbing Services in Austin, TX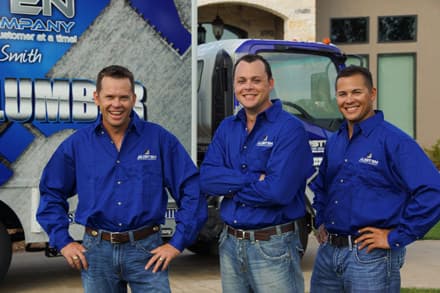 Austen Plumbing Company offers professional and reliable plumbing services for homeowners and small businesses in and around Austin, TX, and Bastrop, TX. Our plumbing services include commercial and residential services such as repair, installation, inspections, emergency service, and scheduled maintenance checks. With our complete range of plumbing services, we are a one-stop shop for plumbing services for customers located throughout Bastrop and Travis Counties.
To learn more about our services or to schedule a service call for any plumbing service, contact our plumbers online or by phone in Travis County.
Our Extensive Range of Plumbing Services
Our commercial and residential plumbing services for properties located in an around Bastrop and Austin, TX include:
Why Choose Austen Plumbing Services?
With a wide range of services available, Austen Plumbing is an excellent choice when you are looking for expert plumbing services in Bastrop or Austin, Texas. Here are some of the many reasons you should rely on us to handle all of your plumbing needs.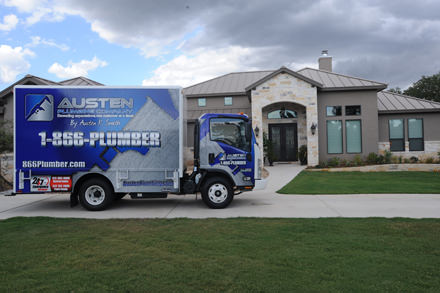 Residential and commercial plumbing service
24 hour emergency plumbing services
Qualified and experienced plumbers
Emphasis on green and eco-friendly plumbing solutions
Expert installation for new pipes, fixtures, and equipment
Competitive pricing
18 years of industry experience
Contact Us Today for Expert Plumbing Services!
If you are a property owner or homeowner located in Bastrop County or Travis County, you can trust Austen Plumbing Company to provide expert plumbing services. With a wide range of plumbing services available and a team of expert plumbing technicians, we can handle all of your plumbing repair, maintenance, and installation needs. To learn more about our plumbing services available in and around Austin, contact us today in Travis County.
Services Areas
Bastrop County
Bastrop
Smithville
Elgin
Travis County
Allandale
Austin
Balcones Woods
Barton Creek
Barton Hills
Cedar Park
Circle C Ranch
Clarksville
Davenport
Driftwood
Far West
Great Hills
Hyde Park
Northwood
Oak Hill
Pemberton Heights
Rollingwood
Shoal Creek
Steiner Ranch
Tarrytown
Travis Heights
Westlake
Zilker
Williamson County
Round Rock
---
Austen K. Smith
Master Plumber
License #M-38347