Sprinkler System Repair & Installation Services in Austin & Bastrop, TX
A sprinkler system delivers just the right amount of water to keep your lawn looking healthy and lush. Sprinkler systems make watering your lawn simple and eliminate the hassles of moving sprinklers and hoses to cover your entire property. There many types of irrigation systems available today, ranging from water efficient systems to affordable sprinkler systems.
All sprinklers systems use automated timers and various controls to monitor and meter the amount water being utilized. These systems must be properly calibrated, and serviced to provide years of uninterrupted use.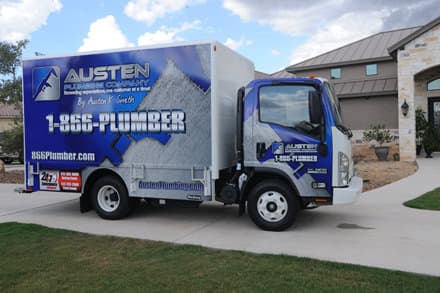 At Austen Plumbing Company, we offer professional sprinkler system installation and maintenance services. We install new sprinkler systems and can maintain your existing system to ensure proper function. If you are currently experiencing problems with your existing system or you simply need to schedule annual maintenance, contact our expert plumbers today in Travis County.
Austen Plumbing Company is a Trusted Sprinkler System Expert
Based out of Bastrop, TX, Austen Plumbing Company provides both residential and commercial clients with a wide range of comprehensive plumbing services. We are sprinkler system experts and can install and repair systems for small residential properties as well as large commercial complexes. With more than 18 years of experience in this industry, our plumbing services exceed the expectations of our clients every time.
Complete Sprinkler System Repair and Installation Services
We specialize in sprinkler system installation, repair, restoration, and calibration. From valve replacement to timer and control unit adjustment, we can quickly recognize and diagnose the problem, determine the right solution, and have your sprinkler system working like new.
When installing new systems, we keep in mind your needs and budget and provide you the best quality system. We have a vast assortment of sprinkler system products available from which you can choose. From water saving sprinkler heads to advanced control units, we utilize the best equipment and supplies on the current market.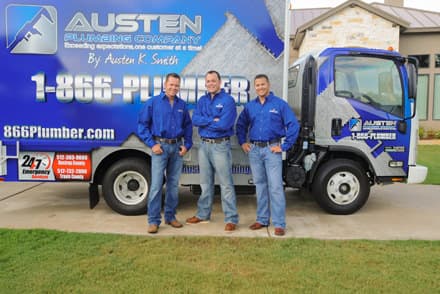 Types of sprinkler system services we perform include:
Broken Head Repair / Replacement
Valve Repair / Replacement
Broken Pipe Repair
Controller Calibration
Sprinkler Head Relocation & Adjustment
New System Design & Installation
Sprinkler System Retrofitting
Our Sprinkler System Maintenance Services
It is vital to inspect the operation of your sprinkler system to determine maintenance that may be needed. At Austen Plumbing Company, we offer an annual Preventive Maintenance Inspection. This inspection in comprehensive in nature, and includes all necessary repairs. The following services will be provided via our annual preventive maintenance program:
Check sprinkler heads for correct height and spray quality.
Make sure that the sprinklers provide optimum coverage.
Check sprinkler heads for leaks.
Fine-tune the heads for minimum water wastage.
Clean clogged heads and filters.
Check the rotation function of the sprinkler heads.
Check for main supply leaks, pipe leaks, and control valve problems.
Inspect water pressure.
Replace missing valve box lids and covers.
Expert Sprinkler System Services
Austen Plumbing Company is the leading choice for sprinkler system repairs and installation in and around Austin, TX and Bastrop, TX. We offer a wide range of sprinkler system services ranging from repairs to installation. We install quality systems at an affordable price. Austen Plumbing Company is licensed, insured, and competent to perform all of your sprinkler system needs.
To learn more about our sprinkler system repair and installation services, contact us today!
Services Areas
Bastrop County
Bastrop
Smithville
Elgin
Travis County
Allandale
Austin
Balcones Woods
Barton Creek
Barton Hills
Cedar Park
Circle C Ranch
Clarksville
Davenport
Driftwood
Far West
Great Hills
Hyde Park
Northwood
Oak Hill
Pemberton Heights
Rollingwood
Shoal Creek
Steiner Ranch
Tarrytown
Travis Heights
Westlake
Zilker
Williamson County
Round Rock
---
Austen K. Smith
Master Plumber
License #M-38347