Common Causes of a Clogged Sewer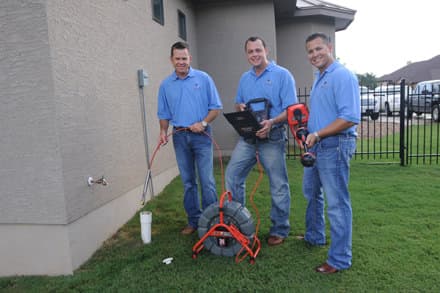 Clogged sewer lines can be major problems in homes as they can result in a variety of unpleasant conditions such as backed up drains in your shower, tub, and basement. While it is often easy to diagnose a clogged sewer because of these problems, determining the specific cause of a clogged sewer line can be more complex often requiring video inspection. Common causes can range from food and other foreign objects that are caught in the pipe to tree roots that have grown into the sewer line.
If you are you experiencing clogged sewer pipelines in your home or office, the experts at Austen Plumbing Company can cater to your needs. Serving the entire Austin area, we offer clogged sewer inspection and repair services to customers in and around Travis County and Bastrop County. To learn more about our services and common causes for clogged sewer lines, contact our Austin plumber today.
What Are The Reasons Behind Clogged Sewer Lines?
The following are some of the most common causes for clogged sewer lines:
Grease: Grease is among the most common reason for a clogged sewer. This form of blockage is commonly caused by grease accumulations that are poured down the drain from dishes, pans, and pots. While hot grease can easily flow through drains, when it cools and solidifies, this grease can cause a buildup along sewer pipes. As a precaution, it is not wise to pour liquid oils, especially from meat dishes, into your drains.
Food: Food particles are often major contributors to a clogged sewer pipe in your home. Regardless of how small in size these particles may be, they can block water flow. Over time, even the smallest of food particles can combine and become large enough to blog large drain pipes and sewers.
Paper: Another common cause of clogged sewer pipes is paper products like toilet paper and feminine hygiene products that have been flushed down toilets. While toilet paper is designed to melt and dissolve in the flushed water, too much of it can cause the paper to bunch up and block the natural water flow resulting in a clog.
Hair: Hair is another common cause for clogged sewer lines. Long hairs can become tangled in the drain and sewer pipes, over time forming a mass that blocks regular water flow.
Tree Roots: Sewer lines in Travis and Bastrop Counties can be made from cast iron, concrete, or clay. Each of these materials can weaken over time, becoming susceptible to the intrusion of tree roots. When tree roots grow into your sewer line, they will cause a significant clog, inhibiting the normal flow of water. If the sewer lines of your home are older than 1950, chances of tree roots being lodged in the clogged sewer are significantly higher.
Toys: In many cases, children's curious minds often lead them to throw their toys and other foreign objects into the toilet. While you can teach your kids not to play with their toys near the toilet, you cannot always prevent them from doing so. If toys or other foreign objects are flushed down your drain, they may result in a clogged sewer line.
Professional Clogged Sewer Repair Services in Austin, TX
If you are experiencing signs of clogged sewer pipes and need your plumbing system inspected for blockage, you can rely on the experienced plumbers at Austen Plumbing Company. Apart from offering a variety of plumbing repair services, our technicians can also offer valuable tips on care and maintenance to help you prevent and avoid plumbing problems in the future.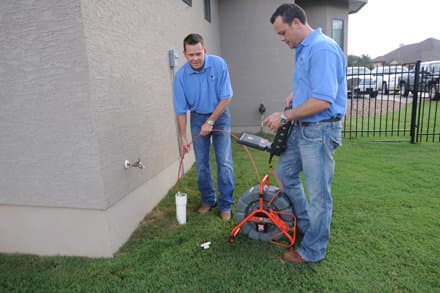 Contact Us Today for Expert Opinions on Clogged Sewer Pipes
For more information about the common causes of clogged sewer pipes or to have your sewer pipes inspected for clogs, contact us today. As leading plumbing experts serving Austin, Texas, and Bastrop, Texas, we can help you with all of your plumbing needs. Call us today in Travis County or contact us online.
Services Areas
Bastrop County
Bastrop
Smithville
Elgin
Travis County
Allandale
Austin
Balcones Woods
Barton Creek
Barton Hills
Cedar Park
Circle C Ranch
Clarksville
Davenport
Driftwood
Far West
Great Hills
Hyde Park
Northwood
Oak Hill
Pemberton Heights
Rollingwood
Shoal Creek
Steiner Ranch
Tarrytown
Travis Heights
Westlake
Zilker
Williamson County
Round Rock
---
Austen K. Smith
Master Plumber
License #M-38347