Expert Sewer Clog Repair and Cleaning in Austin, TX
A sewer clog usually requires immediate attention from experienced plumbers as it can lead to a variety of unpleasant and unsanitary conditions. If the water in your plumbing system has no proper outlet because of a clogged sewer line, it can travel back to your home and back up through drains throughout your home.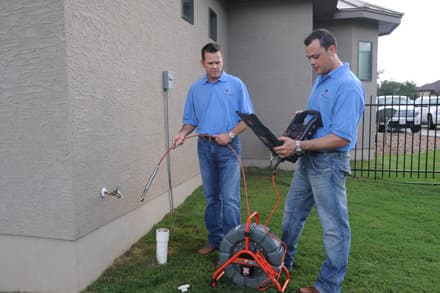 An expert plumbing company can perform video inspection services using specialized equipment to see deep into the sewer lines inside and leading away from your home. This allows them to determine the cause of a sewer clog and the best approach to clearing this clog effectively and permanently. At Austen Plumbing Company, we are experts at dealing with sewer clogs. We can inspect your drain and determine the cause as well as the best approach to dealing with the problem.
To learn more about what to do if you expect a sewer clog or for 24-hour emergency sewer inspection service, contact the expert plumbers at Austen Plumbing today!
Trust Us with Your Sewer Clog Problems
The plumbing experts at Austen Plumbing Company boasts years of plumbing experience serving customers in and around Travis County and Bastrop County. Based out of Bastrop, TX, we offer affordable and reliable plumbing repair solutions to meet all of our customers' needs. With every service, we strive to deliver excellent service and we aim to develop a loyal customer base that can rely on our expertise and experience.
If you suspect a sewer clog in your sewer line, it is importance to have your pipes inspected and cleared immediately by expert plumbers. This can help prevent further problems from occurring and issues from worsening. Contact the professionals at Austen Plumbing Company for professional and expert sewer clog repair and cleaning services for homes and businesses in and around the Austin and Bastrop.
Common Signs of a Sewer Clog
There are many signs that can signify a sewer clog or other issues with your sewer line. These most often include wastewater backing up in the drains throughout your home including your floor, tub, shower, and toilet drains. This back up can occur when water drains from anywhere in your home, as the sewer clog prevents the sewage from draining properly to the main sewer line. Clogging and backing up of multiple fixtures around the house is typically one of the most obvious signs of a major sewer clog.
Some ways that you can test for a sewer clog include: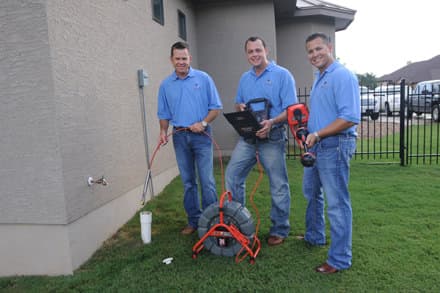 Running the sink: A clog in the sewer system often leads to air pockets that become trapped in the plumbing lines. To test if a clog is located in the sewer line, choose a sink closest to your toilet and let the water run for a minute. If you notice the water level rising in the toilet combined with repeated spurts of trapped air pockets, it is safe to assume that the clogging is in the sewer line.
Flushing the toilet: Another way to determine clogging in the sewer lines is to flush your toilet. If you notice water backing up in the toilet or flooding the shower or tub, it could indicate clogging. This is because the water flushed from the toilet does not travel down the pipe and instead, comes out from the lowest point, which is the shower drain.
Washing machine: If the draining option in a washing machine leads to overflowing in the toilet, shower, or tub, it could indicate a serious clogging problem in the main sewer line.
On occasion, you may notice some of these signs of sewer line clogging, when the problem is in fact, a separate issue with your washing machine or fixture. In any case, it is best for you to call the professionals at Austen Plumbing and have our trained and experienced plumbers assess the situation.
Facing Sewer Clog? Get In Touch With Us Today!
A sewer clog can become a serious problem if it is not properly addressed, and therefore it is best fixed by professionals. For a thorough inspection and repair, call the experts at Austen Plumbing Company. We offer our sewer clog inspection and cleaning services to residential and commercial customers located throughout Travis County and Bastrop County. Contact us today via telephone in Travis County. We look forward to serving all of your sewer clog and drain clog repair needs.
Services Areas
Bastrop County
Bastrop
Smithville
Elgin
Travis County
Allandale
Austin
Balcones Woods
Barton Creek
Barton Hills
Cedar Park
Circle C Ranch
Clarksville
Davenport
Driftwood
Far West
Great Hills
Hyde Park
Northwood
Oak Hill
Pemberton Heights
Rollingwood
Shoal Creek
Steiner Ranch
Tarrytown
Travis Heights
Westlake
Zilker
Williamson County
Round Rock
---
Austen K. Smith
Master Plumber
License #M-38347