Slab Leak Detection & Repair: What You Need to Know
A slab leak is term used when pressurized plumbing or piping leakage occurs under or in the concrete floor found in homes, businesses, and industrial facilities built with slab on grade foundation. If an undetected slab leak is present, erosion of supporting soils beneath the foundation may result. Under-slab voids create an allowance for downward movement, and transfer the supported weight to adjacent points of support where the weakening is progressing. Ultimately, the foundation drops at these localized areas and will tilt and twist. Brittle construction finishes, such as interior sheetrock and exterior brick veneer, will crack as their supports become distorted by these differential foundation movements.
Based out of Austin, TX and Bastrop, TX, Austen Plumbing Company serves customers throughout Bastrop & Travis Counties. We provide a wide range of services including slab leak detection, gas leak detection, video sewer inspection, and plumbing repair. To learn more about any of these services and how we can address your plumbing needs, contact our plumbers today in Travis County.
Detecting & Diagnosing a Slab Leak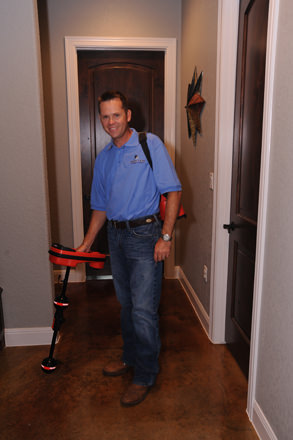 Slab leaks occur without warning. Symptoms of a slab leak are as follows:
If you hear the sound of water running when all fixtures are in the off position, there is a good chance of a slab leak.
A reoccurring wet spot on the floor is usually a sign of a slab leak.
New and growing cracks in the concrete floor and walls of your home may be another sign of a slab leak.
Moisture or mildew growth underneath your carpet can be a sign of a slab leak.
A sudden and unexplained increase in your water bills as compared to past bills is usually a common sign of a slab leak.
A hot spot on the floor is a common symptom of a slab leak that has occurred in the hot water distribution system.
Common Causes of a Slab Leak
Slab leaks typically occur from normal ground shifting, as the soil under your home settles. In some cases, slab leaks can be caused by other circumstances such as electrolysis or friction. Electrolysis occurs when two dissimilar metals such as copper tube and steel pipe are connected in the presence of an electrolyte. This may result in pinhole leaks throughout a water system composed of copper or galvanized piping.
Possible causes for a slab leak include:
Tree Roots in the Plumbing Lines: Tree roots growing near or under your home may increase the chance of a slab leak. This is because they can cause soil to shift, putting extra pressure on pipes.
Poor Quality Craftsmanship: It is important that the water lines, which supply water to your home, are made from quality materials using proper construction techniques. Poorly assembled plumbing fixtures and pipes can often be one of the main causes of slab leak.
Corroding Old Pipes: Even good quality pipes can rust and corrode over time when exposed to the elements. Therefore, corrosion and rust are a significant factor in water leakage from pipes
Locating & Repairing a Slab Leak
If you suspect a leak in the plumbing under your home, finding the exact location of the slab leak is crucial in ensuring proper repair. Modern slab leak detection uses non-destructive techniques such as electromagnetic pipe equipment and amplification electronics to pinpoint the exact location of a slab leak. By using these techniques, excavation is kept to a minimum even during the repair process. In most cases, only a small area of concrete needs be disturbed and replaced.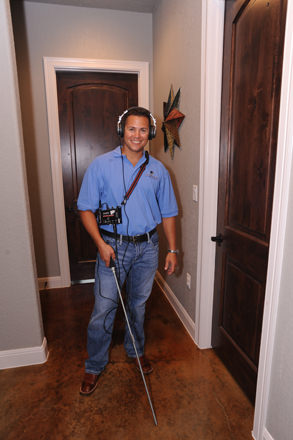 At Austen Plumbing Company, we use the latest techniques and technology when locating and repairing a slab leak. We will first locate the slab leak using precise tools and equipment. In addition, our slab leak specialists will recommend the best course of action from a list of options:
Spot repair: During this process, ingress will take place at the precise location of the slab leak, to effect repairs to the leaking pipe.
Repipe: Also known as rerouting, this approach requires replacing the entire water line. This can be costly, but is often the best approach to prevent future problems in older plumbing networks.
In-place pipe coating: This approach is recommended if the entire plumbing network has small leaks throughout. In this case, it would no be cost effective to excavate the entire slab. Through this process, the pipe is given an epoxy coating to fill cracks and stop leaks.
Call Austen Plumbing Company for Slab Leak Detection and Repair
If you have identified symptoms of a slab leak, it is important to take the necessary steps and call a slab leak specialist immediately. At Austen Plumbing Company, our experts can evaluate the problem and recommend the best course of action. Contact us today in Travis County.
Services Areas
Bastrop County
Bastrop
Smithville
Elgin
Travis County
Allandale
Austin
Balcones Woods
Barton Creek
Barton Hills
Cedar Park
Circle C Ranch
Clarksville
Davenport
Driftwood
Far West
Great Hills
Hyde Park
Northwood
Oak Hill
Pemberton Heights
Rollingwood
Shoal Creek
Steiner Ranch
Tarrytown
Travis Heights
Westlake
Zilker
Williamson County
Round Rock
---
Austen K. Smith
Master Plumber
License #M-38347