Backflow Testing and Backflow Installation Services
A backflow prevention assembly is used to protect potable water supplies from contamination or pollution.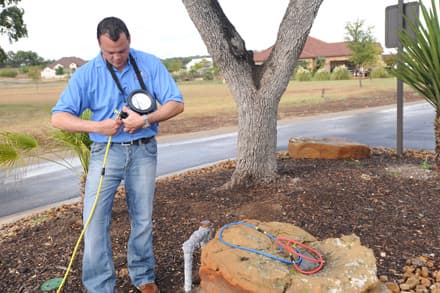 In water supply systems, water is normally maintained at a significant pressure to enable water to flow from the tap, shower etc. When pressure fails or is reduced, as may happen if a water main bursts, pipes freeze or there is unexpectedly high demand on the water system, then such reduced pressure in the pipe may allow contaminated water from the ground, from storage or from other sources to be drawn up into the system.
The presence of backflow and backsiphonage may result in unsafe conditions. State law has mandated commercial facilities, and residential dwellings with irrigation systems to utilize backflow assemblies as a means to prevent contamination to the potable water source. In addition, these backflow assemblies are to be tested annually, and documentation shall be submitted to the authority having jurisdiction. Austen Plumbing Company personnel are certified, and licensed through the Texas Commission of Environmental Quality.
As part of our extensive range of plumbing services, we at Austen Plumbing Company provide professional backflow services to ensure your potable water is safe, and protected from contaminants. Austen Plumbing Company installs backflow assemblies, and performs backflow testing for residential and commercial customers located in Austin and Bastrop, Texas. To learn more about our services or to schedule a service call with your Austin plumber, contact us today in Travis County.
Austen Plumbing Company is the Backflow Testing Expert You are Looking For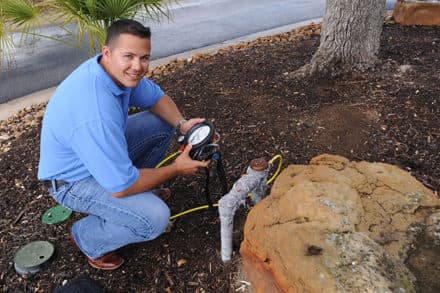 Based out of Bastrop, Texas, Austen Plumbing Company offers expert plumbing services to customers throughout the Austin metropolitan areas to include Travis and Bastrop Counties. We have over 18 years of experience in commercial and residential plumbing.
Our mission at Austen Plumbing Company is to exceed expectations, one customer at a time. Our backflow testing, and installation services are performed effectively, efficiently, and professionally.
From installation and emergency repair, to maintenance and backflow testing, we take care of all your plumbing needs.
Backflow Testing & Installation Services at Austen Plumbing Company
It is essential that an approved backflow device be installed in your home or office to avoid cross contamination from irrigation systems, or appliances that may be connected to your water supply.
A backflow preventer is a means or mechanism to prevent backflow. The basic means of preventing backflow is an air gap, which either eliminates a cross-connection or provides a barrier to backflow. The basic mechanism for preventing backflow is a mechanical backflow preventer, which provides a physical barrier to backflow. The principal types of mechanical backflow preventer are the reduced-pressure principle assembly, the pressure vacuum breaker assembly, and the double check valve assembly. A secondary type of mechanical backflow preventer is the residential dual check valve.
More Information You Should Know About Backflow Testing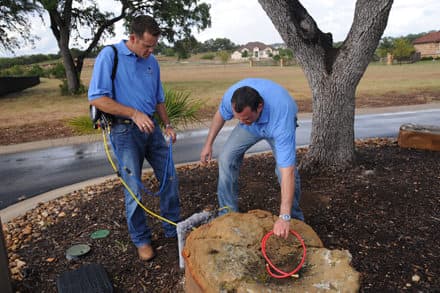 In compliance with state laws, the technician that affects repairs, or conducts a test on backflow prevention assemblies must be licensed through the State of Texas. At Austen Plumbing Company, we adhere to this regulation and employ licensed, and competent technicians.
Backflow devices maintain water quality by preventing contaminants and pollutants from entering your drinking and domestic water supply. The dedicated team at Austen Plumbing Company helps you comply with the state approved requirement of annual backflow testing.
We provide the best installations, maintenance, and repairs of new and existing devices. Our procedures are state approved, and we make sure that your backflow prevention system meets the required safety standards.
Our backflow testing equipment is of the best quality and routinely calibrated per State law. We have a full inventory of repair parts on hand, and can handle any repairs as needed.
Expert Backflow Testing at Austen Plumbing
Austen Plumbing Company offers a wide variety of plumbing solutions including backflow testing, plumbing repair, installation, and more. All of our services are performed by trained and experienced technicians to ensure the best service.
To learn more about our backflow testing and backflow preventer installation services, or to schedule an appointment for service, contact us online or by phone today.
Services Areas
Bastrop County
Bastrop
Smithville
Elgin
Travis County
Allandale
Austin
Balcones Woods
Barton Creek
Barton Hills
Cedar Park
Circle C Ranch
Clarksville
Davenport
Driftwood
Far West
Great Hills
Hyde Park
Northwood
Oak Hill
Pemberton Heights
Rollingwood
Shoal Creek
Steiner Ranch
Tarrytown
Travis Heights
Westlake
Zilker
Williamson County
Round Rock
---
Austen K. Smith
Master Plumber
License #M-38347