Professional Drain Cleaning Services in Bastrop & Austin, TX
Clogged drains can be a common occurrence in households, particularly those with a large family. Clogged drains should be addressed promptly to prevent an unsanitary environment, and alleviate the hassles they may create.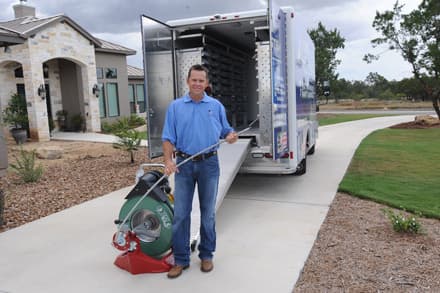 Using a plunger on a clogged drain can be helpful, but this process often provides a temporary relief to an underlying problem. The root cause may be foreign debris such as toilet paper, hair, grease, or gradual build up of sediment in the drains over a period of time. Regardless of the problem, Austen Plumbing Company utilizes the most current technology to remove the obstruction, and restore your sanitary system to its original condition. Our technicians are qualified, and experienced to handle even the toughest clogged drains.
Austen Plumbing Company Can Address All Your Drain Cleaning Needs
With over 18 years of experience, Austen Plumbing Company has been providing professional plumbing and drain cleaning services for many satisfied customers. Based out of Bastrop, TX we offer services throughout Travis and Bastrop Counties for both residential and commercial customers. We are known for our excellent services and dedicated staff as well as our ability to provide a wide range of drain cleaning and plumbing services.
To learn more about our drain cleaning services or to schedule a service call with our plumbers, contact us today in Travis County.
Drain Cleaning Services Available from Austen Plumbing Company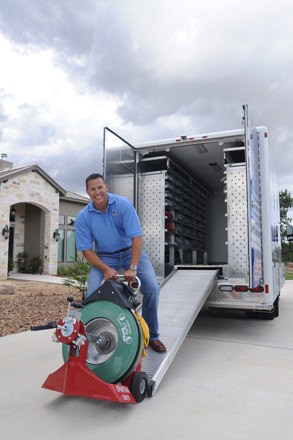 Austen Plumbing Company is your reliable choice for expert drain cleaning services in the Austin, and Bastrop Texas areas. We use state of the art equipment for cleaning clogged drains and sewers. When it comes to stubborn clogs, we utilize techniques that include hydro-jetters, mechanical augers, and a variety of specialized equipment.
Hydro-Jetters: This drain cleaning device uses water under a high pressure to eliminate grease, debris, and other build-up from your drain pipe. Using hydro-jetters for drain cleaning can add a significant improvement to your drainage system.
Video Inspection: Video inspection is done to inspect your sewer and drainage system properly in order to determine the cause of a clog. This device provides remote video footage of the situation inside the pipes, drains, and sewers, and assists our technicians with diagnostics.
Safe Cleaning Solutions: In some cases, the best approach to drain cleaning is to use cleaning solutions to break up a clog. We recommend avoiding the use of harsh chemical cleaners, bleach, solvents, or caustic solutions to clean your drains as they cause damage to the pipes and may be hazardous to the environment. Instead, we use drain cleaning services, we use eco-friendly products like Bio-Clean to remove debris from drains and pipes. Bio-Clean also helps to decompose waste in an efficient manner and is capable of preventing drain clogs.
Our expert technicians provide drain cleaning services throughout your home or commercial property. This includes:
Kitchen Drains
Bathroom Drains
Toilet Drains
Floor Drains
Downspout Drains
Other Indoor and Outdoor Drains
More Information About Clogged Drains & Drain Cleaning
See the information at the links below to learn more about drain clogs and the best approach to clearing drains, or contact us for more information from our professionals.
Learn More About Our Expert Drain Cleaning Services in Bastrop & Austin, TX
Austen Plumbing Company is an authority when it comes to drain cleaning. As plumbing and drain cleaning experts, we perform the best quality work and aim to exceed our clients' expectations with every service. It is our goal to build a professional rapport with our customers that generates repeat business.
Contact us online or by phone today to learn more about sewer and drain clog cleaning and the other plumbing services that we offer.
Services Areas
Bastrop County
Bastrop
Smithville
Elgin
Travis County
Allandale
Austin
Balcones Woods
Barton Creek
Barton Hills
Cedar Park
Circle C Ranch
Clarksville
Davenport
Driftwood
Far West
Great Hills
Hyde Park
Northwood
Oak Hill
Pemberton Heights
Rollingwood
Shoal Creek
Steiner Ranch
Tarrytown
Travis Heights
Westlake
Zilker
Williamson County
Round Rock
---
Austen K. Smith
Master Plumber
License #M-38347