Why Buy a Tankless Water Heater?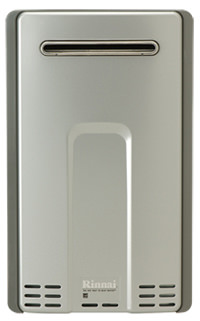 For many, one of life's cherished comforts is a long hot bath or shower. However, nothing is more frustrating than turning on the faucet only to find out that you have run out of hot water. A tankless water heater delivers a continuous supply of hot water. With an "on demand" feature, continuous flow of hot water, and the energy savings that tankless water heaters offer, these can be the ideal choice for home or commercial use.
If you are interested in purchasing a tankless water heater, or upgrading your current system, the experts at Austen Plumbing Company can help you choose the tankless water heater that best fits your requirements. Based out of Bastrop, TX and Austin TX, Austen Plumbing Company offers services to customers throughout the Austin area, including Bastrop County. We offer tankless water heater installation, repair, and maintenance, along with many other plumbing services. If you are looking for an expert plumber in Bastrop County or Travis County, call us to solve all of your plumbing needs.
What is a Tankless Water Heater?
A tankless water heater-as the name says- has no tank to act as a reservoir of hot water. Instead, a tankless water heater heats water as it is needed. These systems are commonly referred to as on-demand water heaters or instantaneous water heaters. Unlike conventional water heaters, tankless water heaters utilize electricity only when the tap is opened. This "on demand" feature results in an energy savings of up to 40% annually.
A tankless water heater can be operated by either one of two sources: gas or electrical energy. A gas tankless water heater is more efficient than an electrical tankless water heater and it can result in a higher flow rate for hot water. An electric tankless water heater requires substantially more electrical energy to heat water quickly.
What are the Practical Benefits of a Tankless Water Heater?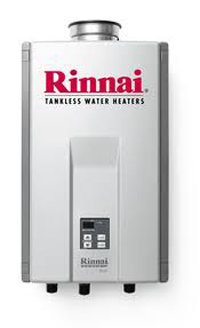 Size: The first and foremost benefit of a tankless water heater is its size. A tankless water heater is much smaller than a conventional tank type water heater. Because the unit takes less space, a tankless water heater is ideal for small homes and condominiums. They can even be fitted to the outside walls to conserve living space. Therefore, tankless water heaters can free up large amounts of closet or storage space that were once occupied by a large water heater.
Operating Costs: While the initial expense of a tankless water heater is slightly more than tank type water heaters, tankless water heaters result in significantly lower operating costs, which outweigh this initial expense. Tankless water heaters use far less energy and can result in energy savings up to forty percent.
Life Expectancy: A tankless water heater has a longer life expectancy when compared to tank types. A typical tankless water heater has an expected life of about twenty years-compared to the conventional tank type's 7 to 10 year life expectancy. This is because a tankless water heater does not suffer equivalent corrosion.
Versatility: With a variety of tankless water heaters available, Austen Plumbing Company will provide a tankless water heater to meet your specific requirements. We also carry point of use water heater such as an "Insta-Hot" which can be installed under sinks and other similar areas. These supply hot water to a particular tap and can be used to supplement your hot water needs.
Contact Austen Plumbing Company for All Your Tankless Water Heater Requirements
At Austen Plumbing Company, we are experts when it comes to water heaters. Whether you are buying a new tankless water heater or you need installation, repair, or replacement services for your existing unit, we can help. Contact us today to discuss your requirements in Travis County.
Services Areas
Bastrop County
Bastrop
Smithville
Elgin
Travis County
Allandale
Austin
Balcones Woods
Barton Creek
Barton Hills
Cedar Park
Circle C Ranch
Clarksville
Davenport
Driftwood
Far West
Great Hills
Hyde Park
Northwood
Oak Hill
Pemberton Heights
Rollingwood
Shoal Creek
Steiner Ranch
Tarrytown
Travis Heights
Westlake
Zilker
Williamson County
Round Rock
---
Austen K. Smith
Master Plumber
License #M-38347