Professional Leak Repair Service in Austin & Bastrop, TX
We typically do not see the pipes that make up the plumbing system in offices and homes, as they are concealed behind wall and below the slab. As a result, it is often difficult to detect leaks. While leaks can be difficult to locate and repair, it is essential that they be identified to prevent damage to your property and personal belongings.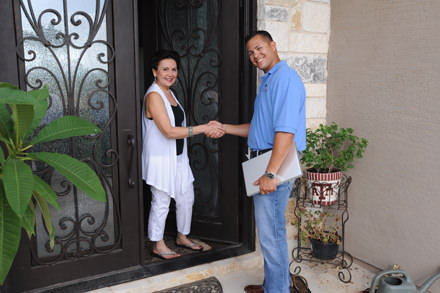 Leaks can occur anywhere, from pressurized water lines to underground pipes and drains. In most cases, it is a lengthy and extensive procedure to repair leaks. It is important to first identify the exact location and determine the source of the leak. Austen Plumbing Company employs the most advanced technology and proven techniques to detect and effect repairs quickly and efficiently.
To learn more about our leak repair services, contact our plumbers today in Travis County.
Austen Plumbing Company is the Leak Repair Specialist Everyone Trusts
As trusted plumbers in Austin, Texas, we have been providing plumbing services for more than 18 years. We serve both commercial and residential clients located throughout the Austin metropolitan area, including Travis and Bastrop Counties.
Our dedicated team of trained and certified technicians is focused on providing services to exceed our customers' expectations. We are experts in detecting leaks and provide leak repair services of all kinds. We work quickly to diagnose and repair any issues allowing you to return to normal daily life as quickly as possible.
The Importance of Prompt Leak Repair
Leaks can be a common problem in both old and new plumbing systems. They can occur throughout the inside of your home as well as in the pipes that run under your home's foundation. They typically originate in bends, connections, and fittings. Leaks are caused by various contributing factors. Signs that you need expert leak repair services include:
Unjustified increase in the water bill
Water damage on walls or ceilings
Rotting timbers and beams
Stained wallpaper
Paint peeling from walls
Constant sounds of running water
Growth of fungus on floors and walls
Unusually wet and moist areas in the yard
Change in water meter reading despite normal usage
Whether the leak is coming from the pipes in the walls of your home or under your home's foundation, providing immediate attention is crucial. While pipe leak repair can be expensive, the costs of repairing damage that is caused over time by leaking pipes can be even higher. If you suspect any pipe leaks, it is best to have professionals inspect your pipes and perform leak repair as soon as a leak is detected.
Leak Repair Services Available from Austen Plumbing Company
The leak repair experts at Austen Plumbing Company understand the frustration caused by leaks. Slow leaking pipes like sewer and drain pipes, can leak contaminated water and sewage into your home, resulting in unhealthy and unsanitary conditions. One major problem with these types of leaks is that they can go on for months before the leak is noticed. By this time, serious damage may have already occurred.
Leaks in pressurized pipes, such as clean water supply lines, are more apparent. Water from such sources has an aggressive flow and can be detected easily. These types of leaks often cause major damage quickly as they burst and spill significant amounts of water throughout your home. It is important to isolate the leak and remove the water quickly to prevent damage and potential mold growth. Therefore, expert leak repair should be done as soon as possible.
Leaks can also occur on plumbing fixtures throughout your home including faucets, toilets, drains, garbage disposals, water heaters, dishwashers, and more. These types of leaks are typically easy to notice, and should be repaired quickly.
At Austen Plumbing Company, we can provide all kinds of plumbing leak repairs. Leak repair services that we provide include:
Sewer Pipe repair
Drain pipe repair
Copper pipe repair
PVC pipe repair
Frozen pipe repair
Burst pipe repair
Get a Timely Leak Repair Today
To learn more about our leak repair services available in Travis and Bastrop Counties, contact us today. With 24 hour emergency service available, we can quickly diagnose and repair any water leak problems you are experiencing.
Services Areas
Bastrop County
Bastrop
Smithville
Elgin
Travis County
Allandale
Austin
Balcones Woods
Barton Creek
Barton Hills
Cedar Park
Circle C Ranch
Clarksville
Davenport
Driftwood
Far West
Great Hills
Hyde Park
Northwood
Oak Hill
Pemberton Heights
Rollingwood
Shoal Creek
Steiner Ranch
Tarrytown
Travis Heights
Westlake
Zilker
Williamson County
Round Rock
---
Austen K. Smith
Master Plumber
License #M-38347