Faucet Repair and Installation Services in Austin & Bastrop, TX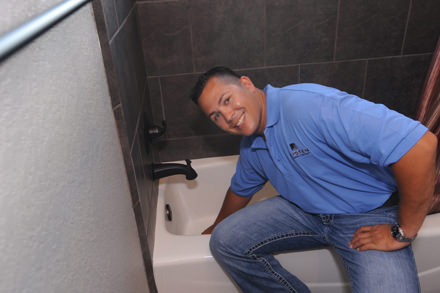 Faucets are common fixtures in any residential or commercial setting. We use them on a daily basis and feel inconvenienced when they leak or become old and worn out. However, while faucets seem to be simple plumbing fixtures, they are prone to a number of problems that can keep them from functioning optimally. From leaks and drips to loss in water pressure and even broken handles, there are a number of problems that may occur with your bathroom and kitchen faucets.
At Austen Plumbing Company, we are experts when it comes to faucet repair and installation. With over 18 years of experience, we are the go-to plumber for faucet repair in Austin, TX and Bastrop, TX. When you need your faucet repaired or replaced, you can count on us for reliable service and affordable prices. Call us today in Travis County or contact us online to learn more about our faucet repair and expert plumbing services.
A Look at Our Faucet Repair & Installation Services
One of the most common causes of leaking faucets is hard water and lime build-up. This can result in significantly reduced water flow. Additionally, many faucets simply begin to drip and leak as the seals wear and deteriorate over time. Leaks may be minor at first, but can gradually evolve into a larger and sometimes costly situation. Faucets that constantly leak or drip can waste a significant amount of water.
In many cases, simple faucet repair services can address leaks, low water pressure, and other problems you may be experiencing. However, there may be situations where a routine faucet repair is not feasible or is not the most cost efficient method. In these situations, faucet replacement is the best option.
The plumbers at Austen Plumbing Company have extensive experience providing faucet repair. Whether your bathroom sink, kitchen, shower, tub, or outdoor faucet, Austen Plumbing Company can repair and replace faucets of all makes and models.
Deciding Between Faucet Repair and Installation
Many times customers find the choice between faucet repair and replacement a difficult one. If you have a newer faucet that develops a minor leak, often faucet repair services can effectively resolve the problem. However, since faucets are available at affordable prices, many times replacing your old faucet with a new model is more cost effective than attempting a repair.
Our plumbing experts have extensive experience providing faucet repair solutions for older or broken faucets in your home or office building. If you are undecided on which approach to take, we can provide you options, depending on your budget and expectations.
Get a Free Faucet Repair or Installation Quote Today
Austen Plumbing Company is your one-stop destination for all types of plumbing services, we can handle all of your plumbing requirements.
If you need emergency faucet repair services for a leaking faucet contact us by phone today in Travis County. You can also call us or complete our online form to contact our plumber with any questions you have about repairing or replacing your faucet.
Services Areas
Bastrop County
Bastrop
Smithville
Elgin
Travis County
Allandale
Austin
Balcones Woods
Barton Creek
Barton Hills
Cedar Park
Circle C Ranch
Clarksville
Davenport
Driftwood
Far West
Great Hills
Hyde Park
Northwood
Oak Hill
Pemberton Heights
Rollingwood
Shoal Creek
Steiner Ranch
Tarrytown
Travis Heights
Westlake
Zilker
Williamson County
Round Rock
---
Austen K. Smith
Master Plumber
License #M-38347