Call a Plumber at Austen Plumbing Company for Expert Plumbing Service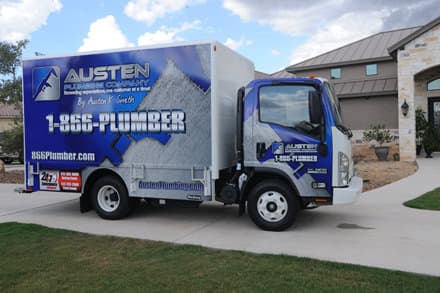 When hiring a plumber to repair leaks, install new fixtures, or perform any other type of repair or service in or around your home, it is best to hire an experienced and licensed plumber. An expert plumber will ensure quality and timely service. At Austen Plumbing Company, we are experienced plumbers serving the Austin and Bastrop areas, and we can handle all of your plumbing needs. For 24-hour plumbing service and repairs, contact us today!
To schedule a service call with an emergency plumber at Austen Plumbing Company, call us directly:
Austen Plumbing Company is a Professional Plumber You Can Trust
Austen Plumbing Company employs a team of professional, licensed, and experienced plumbers who are available to complete various plumbing repairs and services. Whether you need emergency repairs or other plumbing services, our plumbers do a thorough job the very first time, saving you time, money, and unwanted stress. We identify the root cause, and take immediate action to prevent recurrence of the specific plumbing deficiency.
We are a licensed, insured, and bonded plumbing company with over 18 years of experience. We strive to establish a sound reputation while delivering customer-oriented and dedicated plumbing services to customers in Austin, TX and Bastrop, TX. We offer a wide range of residential and commercial plumbing services to meet your every need.
How Can a Plumber from Austen Plumbing Company Help You?
Austen Plumbing Company is a one-stop shop for all of your plumbing problems. Our commercial and residential services include:
With a wide range of plumbing services available, we can install plumbing fixtures, offer plumbing repair, and service a variety of appliances in your home or office. Our plumbers have experience installing and servicing all makes and models of faucets and fixtures in kitchens and bathrooms. Whether you have moved to a new home, you are undertaking a renovation, or you need simple repairs, we can provide plumbing solutions tailored to meet your specific needs.
You will find our prices competitive with no hidden costs associated. Prior beginning any service, we will provide a detailed and accurate quote.
Call a Plumber from Austen Plumbing Company Today
Plumbing systems are similar to complex machines with various components, each serving different functions. A problem in one component can affect the health and stability of the entire machine. The plumbers at Austen Plumbing Company will exceed your expectations! We are the experts at diagnosing problems accurately and providing expert repair.
To learn more about our services, contact a local plumber at Austen Plumbing Company today.
Services Areas
Bastrop County
Bastrop
Smithville
Elgin
Travis County
Allandale
Austin
Balcones Woods
Barton Creek
Barton Hills
Cedar Park
Circle C Ranch
Clarksville
Davenport
Driftwood
Far West
Great Hills
Hyde Park
Northwood
Oak Hill
Pemberton Heights
Rollingwood
Shoal Creek
Steiner Ranch
Tarrytown
Travis Heights
Westlake
Zilker
Williamson County
Round Rock
---
Austen K. Smith
Master Plumber
License #M-38347