Recommended Maintenance to Prevent a Clogged Drain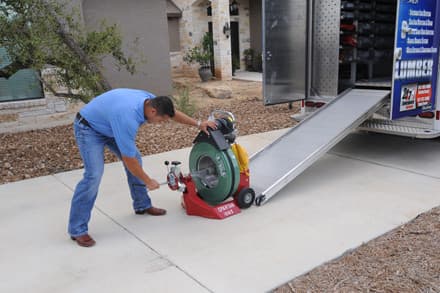 Items such as food, toilet paper, and other foreign objects or materials that enter the sanitary sewer system can cause clogged drains. When these types of particles adjoin and form a large mass, they cause stubborn clogs that may be difficult to clear. The ideal approach to handling clogs is to take measures to prevent them from occurring. By carefully monitoring what is conveyed to your drains and taking several other preventive measures, you can help prevent the buildup of particles that may result in a clogged drain.
If you do experience a stubborn blockage or clog, the best practice is to call an expert to clear you clogged drain. Austen Plumbing Company employs a variety of techniques to fully clean any clogged drains and resolve drain clog issues.
Maintenance Tips and Techniques for Preventing Clogged Drains
Here are a few techniques and tips that you can follow to help prevent clogged drains from occurring. For example:
Pouring hot water down the drains, especially after use, can help to prevent a clogged drain. Everyday activities like brushing, shaving, doing dishes, etc. can cause build up over time, but flushing these particles out with hot water can help prevent problems.
Using strainers over bathroom and kitchen drains will help stop hair, soap pieces, large food particles, and other material from entering the main drains. You should also clean the strainers weekly to avoid a buildup of grime and dirt.
Only flushable items like human waste and toilet paper should be flushed down toilet drains. Items like paper towels, sanitary products, and q-tips are common causes for clogged drains.
Bathroom and shower drains can be kept clean and clog free by cleansing the pipes with boiling hot water at least once a month. Dumping boiling hot water down a drain is very effective in breaking down materials causing a clogged drain.
Avoid pouring grease and fat down the kitchen drain. Instead, these products should be allowed to cool and disposed of in a trash receptacle. A clogged drain resulting from grease or fat build up can be one of the most difficult to clean.
Lint and dirt can be carried out from the washing machine into the drainpipes as the water drains. You can prevent a clogged drain by installing a lint trap or filter on the washing machine discharge hose to catch these materials before they enter the pipes.
Expert Clogged Drain Cleaning in Austin and Bastrop, TX
Even if you take these precautions to prevent dirt and debris from entering your pipes, drain clogs can still occur. If you experience problems, Austen Plumbing Company is a trusted name for plumbing and clogged drain cleaning services in the Austin area.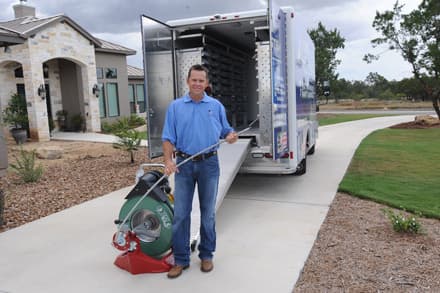 With over 18 years in the industry, we have a strong track record of successfully serving our customers. Located in Bastrop, TX, we offer our services to residential and commercial customers throughout the Austin metropolitan area. Our excellent services, customer satisfaction guarantee, and affordable prices have made us the plumbing services company of choice for many individuals in Bastrop and Travis counties.
As experts when it comes to clogged drains, we have the best equipment to clean clogged drains, pipes, and sewers. We use only safe, biodegradable materials for cleaning and unclogging drains. We can also use hydro-jetters or drain snakes to clear out the buildup causing persistent and stubborn clogs.
Austen Plumbing Company – Experts in Treating Your Clogged Drain
To learn more about how our plumbers can help you treat your clogged drain and prevent future problems, contact us in Travis County. We look forward to assisting you.
Services Areas
Bastrop County
Bastrop
Smithville
Elgin
Travis County
Allandale
Austin
Balcones Woods
Barton Creek
Barton Hills
Cedar Park
Circle C Ranch
Clarksville
Davenport
Driftwood
Far West
Great Hills
Hyde Park
Northwood
Oak Hill
Pemberton Heights
Rollingwood
Shoal Creek
Steiner Ranch
Tarrytown
Travis Heights
Westlake
Zilker
Williamson County
Round Rock
---
Austen K. Smith
Master Plumber
License #M-38347