Professional Electronic Leak Detection Service in Bastrop & Austin, TX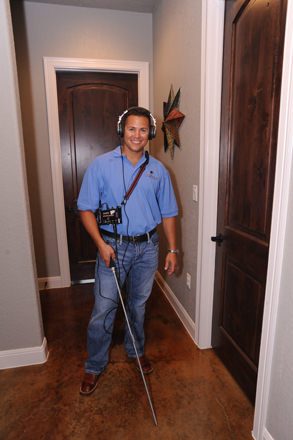 When the water line that is responsible for supplying water to your home develops leaks and cracks, this may result in damage and the need for costly repairs if not detected in a timely manner. You will see increased water bills as water is wasted. Additionally, a slab leak can eventually cause substantial damage to your home and its foundation if erosion takes place. It is critical to employ the services of a qualified leak detection specialist.
At Austen Plumbing Company, we offer professional leak detection services. We diagnose and detect leaks quickly with our proven methods, and state of the art leak detection equipment.
Based out of Austin, TX and Bastrop, TX, Austen Plumbing Company offers a wide range of plumbing services to residential and commercial customers in the area. In addition to electronic leak detection, our plumbing services include water heater installation and servicing, garbage disposal installation and repair, video inspection, and plumbing repair. If you reside in Travis or Bastrop County, call our plumbers today to solve your plumbing needs.
Why Do You Need Professional Leak Detection Services?
If you live in a house that is constructed on a concrete slab, leak detection service should be an important part of your home maintenance. There are a number of plumbing lines that are present underneath the concrete slab that acts as the foundation for your home. These lines are susceptible to damage via ground shift, erosion, or friction.
If leak detection is not conducted in a timely manner, the leak will further exacerbate the shifting problem, causing soil under your home's foundation to erode away. Allowing this condition to persist can result in foundation and structural concerns in the future. If a leak is concealed within the walls of your home or below your concrete floor you can count on our extensive building and plumbing experience to quickly locate the problem. As qualified leak detectors, Austen Plumbing Company utilizes the latest technology in acoustic and line tracing equipment to quickly and accurately meet your leak detection needs.
How Do You Know When to Call Our Leak Detection Service?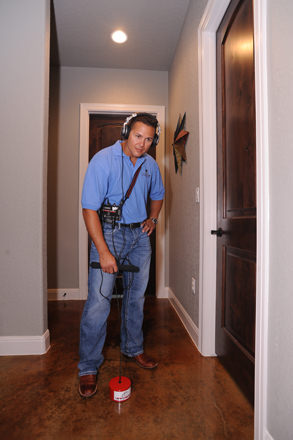 If you recognize any of the following symptoms, it is important to take the necessary steps and contact your local leak detection experts. The following information will assist you if the requirement for slab leak detection is needed.
Water bills show a sudden increase without a logical explanation
You hear the sound of running water even when all of the faucets in your home are turned off
You see cracks in the foundation or slab under your house
The soil around your house has noticeably shifted
Plants around your home exhibit unequal growth
You recognize water spots or wet spots on the surface of the slab
Carpet or floor coverings become discolored
Unpleasant odors including the smell of mold or mildew emanate from your walls or floors
Contact Austen Plumbing Company for Leak Detection & Repair
The technicians at Austen Plumbing Company have extensive experience providing leak detection and repair services. If you suspect any issues or leaks, contact us today to schedule leak detection services as soon as possible. Call us in Travis County.
Services Areas
Bastrop County
Bastrop
Smithville
Elgin
Travis County
Allandale
Austin
Balcones Woods
Barton Creek
Barton Hills
Cedar Park
Circle C Ranch
Clarksville
Davenport
Driftwood
Far West
Great Hills
Hyde Park
Northwood
Oak Hill
Pemberton Heights
Rollingwood
Shoal Creek
Steiner Ranch
Tarrytown
Travis Heights
Westlake
Zilker
Williamson County
Round Rock
---
Austen K. Smith
Master Plumber
License #M-38347