Professional Sewer and Drain Cleaning in Austin, TX
No one wants to deal with a late night sewer or drain emergency. A backup or clog at the wrong time can turn a pleasant night at home into a complete disaster area.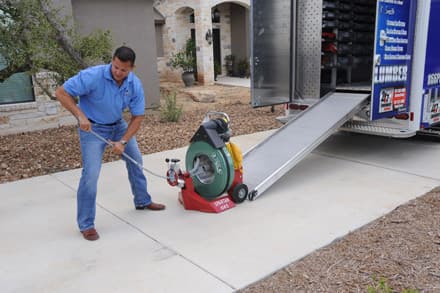 A sewer line clog can result in permanent damage to your home and your possessions. Serious clogs can result in sewage backup through your drains, toilets, dishwasher, and washing machines. Regularly scheduled drain cleaning can prevent that from happening.
At Austen Plumbing Company, keeping your pipes clean and functional is what we do best. The line from your home plumbing system to your sewer or septic tank requires regular drain cleaning to prevent the worst from happening. We use video inspection to help us to find the sources of the clog remotely without needing to take apart your pipes. Austen Plumbing Company also uses hydro-jetting technology to remove your clogs more effectively and efficiently.
We are the #1 rated plumbing company in Austin. We provide emergency plumbing drain cleaning services 24 hours a day and 7 days a week for customers throughout Texas. We have many experienced employees and keep our vans in excellent condition.
To schedule a drain cleaning appointment surrounding Austin, TX, call us today or contact us online.
How to Know When It's Time for a Drain Cleaning
Frequently, drains will give you a hint when it's time to schedule a drain cleaning. They burble up and may send some water back up. In other cases, the drain may just be slow in working.
In some cases, a drain that needs drain cleaning can make noise like a coffee machine working. This noise can also happen near where appliances like your washing machine and dishwasher drain down. That's often a sign that it's time to schedule a drain cleaning.
When it's a shower or a washtub drain, accumulated hair and soap grime can also lead to slow drainage. Instead of going through the laborious and grimy job of systematically doing your own drain cleaning, you can hire Austen Plumbing Company to take care of it for you in minutes. Our professionals handle dozens of drain cleaning jobs each day – we make sure to get it done properly and efficiently so that you don't need to worry about it again.
What to Do If You Suspect a Sewer Clog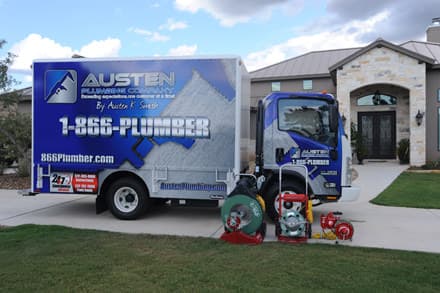 Sewer clogs result in uniform backups throughout your household plumbing system. Therefore, just doing a drain cleaning on each individual drain won't address the root of the problem, which is probably in the sewer line. The sewer line is where all the waste water throughout your entire house goes to either the sewer system or your septic tank.
The first thing to do if you suspect that your sewer line has clogged is to shut down your water at the main. Then call a professional to schedule a sewer line inspection. You should not attempt to take care of a sewer line clog by yourself as in many cases, the drain cleaning requires removing tree roots, impacted household waste, and other obstructions.
Contact Us for Sewer & Drain Cleaning Service
Scheduling a sewer or drain cleaning with Austen Plumbing Company is easy and affordable. Just call us or contact us online to schedule an appointment with one of our expert plumbers. We even provide 24/7 plumbing services for emergencies.
Services Areas
Bastrop County
Bastrop
Smithville
Elgin
Travis County
Allandale
Austin
Balcones Woods
Barton Creek
Barton Hills
Cedar Park
Circle C Ranch
Clarksville
Davenport
Driftwood
Far West
Great Hills
Hyde Park
Northwood
Oak Hill
Pemberton Heights
Rollingwood
Shoal Creek
Steiner Ranch
Tarrytown
Travis Heights
Westlake
Zilker
Williamson County
Round Rock
---
Austen K. Smith
Master Plumber
License #M-38347