Why Austen Plumbing Company is Your Bastrop Plumber of Choice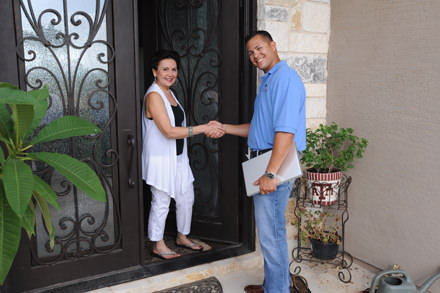 With over 18 years of industry experience, Austen Plumbing Company is the expert plumbing company serving commercial and residential clients located in and around Bastrop, TX. Our customer service and comprehensive range of plumbing options are just some of the many reasons why Austen Plumbing Company is the Bastrop plumber of choice for the residence of Bastrop County.
To learn more about what makes us the best Bastrop plumber, contact us today online or by phone in Travis County.
The Benefits of Trusting Austen Plumbing Company as Your Bastrop Plumber
Many plumbing projects are ideal for the do it yourselfer, especially with all of the tutorials and guides online. There are times, however, when calling a professional plumber is the best option. Even some seemingly easy projects are best handled by a pro. Save yourself some time and trouble by calling Austen Plumbing Company. (Link to Contact Us Page)
When you hire the professionals at Austen Plumbing Company as your Bastrop plumber, you will receive professionalism, courtesy, quality, and peace of mind knowing your repairs are done right.
Choose From a Large Number of Services
As the leading Bastrop plumber, we are able to offer a comprehensive range of services. We have solutions for both commercial and residential plumbing problems. We can undertake services such as faucet, toilet, sprinkler system, and water heater repair and installation, drain cleaning, garbage disposal repair and installation, pipe repair, and more. With so many services available, we are a one-stop shop for all of your plumbing needs.
Receive Premium Bastrop Plumber Services at an Affordable Cost
We make every effort to provide the best possible plumbing services available at an affordable cost. As a local Bastrop plumber, our technicians provide several price options from which you can choose. You will know the exact price prior to the work being performed. We charge by the job, not by the hour!
Hire an Experienced & Trained Master Bastrop Plumber
With over 18 years of industry experience, our Bastrop plumber has encountered a number of plumbing issues, and performed countless installations, and repairs. If you are experiencing difficulty with faulty plumbing or require expert plumbing services in your home or commercial building, you can trust our skilled and highly trained plumber to provide the best possible service.
24 Hour Emergency Plumbing Services Available
In addition to standard plumbing installations and maintenance, we can also provide emergency repairs when needed. If you experience a leaking or burst pipe, a clogged drain, sewage backup, or other plumbing issues, our Bastrop plumber is available 24 hours a day for emergency service. With our rapid response time, Austen Plumbing Company will minimize potential damage and immediately effect repairs.
Contact Us if You Are Looking for an Experienced Bastrop Plumber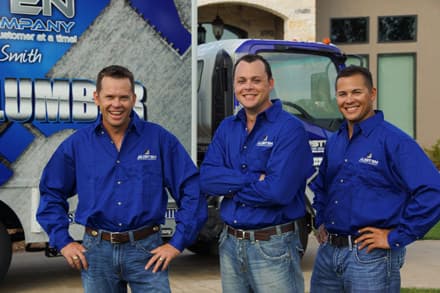 Based out of Bastrop, Texas, Austen Plumbing Company is the leading plumbing company serving Bastrop County and Travis County. Whether you need plumbing installation, maintenance, or emergency repairs, contact us today to learn more about our services and how we can help.
Contact us in Travis County.
Services Areas
Bastrop County
Bastrop
Smithville
Elgin
Travis County
Allandale
Austin
Balcones Woods
Barton Creek
Barton Hills
Cedar Park
Circle C Ranch
Clarksville
Davenport
Driftwood
Far West
Great Hills
Hyde Park
Northwood
Oak Hill
Pemberton Heights
Rollingwood
Shoal Creek
Steiner Ranch
Tarrytown
Travis Heights
Westlake
Zilker
Williamson County
Round Rock
---
Austen K. Smith
Master Plumber
License #M-38347