Emergency Plumber & Plumbing Company in Austin, TX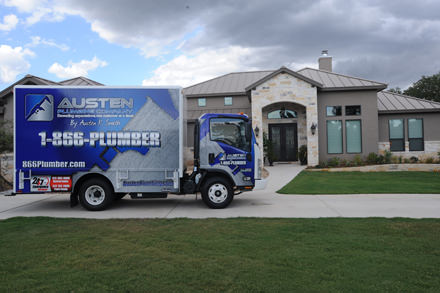 Everyone dreads the day that they have to call the emergency plumber or find a plumbing company for emergency plumbing or repair.
It's not just the overflowing drain or flooding basement that the average homeowner worries about: it's the enormous bill. What if there was an emergency plumber that you could trust to provide both effective and affordable service?
At Austen Plumbing Company, we've built our plumbing company on providing excellent and reliable service. We know that the customers who call us asking for an emergency plumber are looking for a company to make sure that a similar emergency won't strike their home in the future.
We are an affordable and professional emergency plumber prepared to handle any plumbing service or repair. Most of our licensed plumbers and service staff have over 10 years of experience. We've been serving Texas for many years as the #1 emergency plumber in the Austin area.
Get an emergency plumber sent to your home as soon as possible by calling us. Additionally, you can contact us online or by phone to schedule an appointment for regular service or if you have any other questions about our plumbing services.
Why Austen Plumbing Company is the Most Reliable Emergency Plumber in Austin
As a trusted provider of complete plumbing and drain cleaning services in the Austin area, customers continually choose us because:
We have over 16 employees ready to serve you with 24/7 emergency plumber service.
We keep our fleet of vans in top condition. We only drive new vehicles with less than three years of time on the road.
We handle all jobs, large or small. When you need an emergency plumber, we're there for you.
We ensure that we remain the best emergency plumber in the area by utilizing the latest technology, constantly increasing the knowledge of our staff, and continually improve our processes.
Austen Plumbing Company provides free estimates on services, even when you call for an emergency plumber. We don't like surprising our customers with bills.
We have been serving the Texas area for many years. We are licensed and insured for your safety and peace of mind.
As a plumbing company that cares about our customers, our plumbers wear the Austen Plumbing Company uniform proudly. When you see the van with our logo driving up, you can rest easy knowing that your plumbing problem will be resolved quickly and professionally the first time. Unlike other emergency plumbers that just look to rack up the largest bill possible when you're at your most vulnerable because of a plumbing crisis, we make sure to treat you right – whether you're a new customer or have been working with us for a decade or more.
Complete Plumbing Services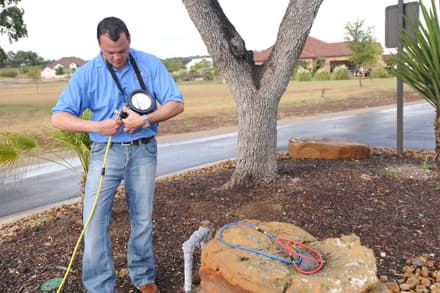 We offer a variety of plumbing services including:
Sewer and drain cleaning
Grease trap pumping
Electronic leak detection
Video inspection
Trenchless pipe repair
Tile and grouting and repair
Backhoe service
Sewer, Water, and gas line installation
Water Heaters
Contact Our Austin Plumbing Company
When you need emergency plumbing repairs, sewer and drain cleaning, grease trap and septic tank pumping, or any other plumbing service, call the plumbing company with the expertise, technology, and track record of serving the Austin area. Austen Plumbing Company serves the community by taking care of plumbing emergencies when they happen, and then preventing them with regular, reliable, and affordable service.
You can schedule an appointment with an emergency plumber by calling us or you can also use our convenient online contact form if you have other questions about our plumbing services or would like to schedule an appointment.
Services Areas
Bastrop County
Bastrop
Smithville
Elgin
Travis County
Allandale
Austin
Balcones Woods
Barton Creek
Barton Hills
Cedar Park
Circle C Ranch
Clarksville
Davenport
Driftwood
Far West
Great Hills
Hyde Park
Northwood
Oak Hill
Pemberton Heights
Rollingwood
Shoal Creek
Steiner Ranch
Tarrytown
Travis Heights
Westlake
Zilker
Williamson County
Round Rock
---
Austen K. Smith
Master Plumber
License #M-38347