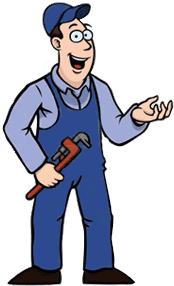 1-866-PLUMBER

Services Areas
Bastrop County
Bastrop
Smithville
Elgin
Travis County
Allandale
Austin
Balcones Woods
Barton Creek
Barton Hills
Cedar Park
Circle C Ranch
Clarksville
Davenport
Driftwood
Far West
Great Hills
Hyde Park
Northwood
Oak Hill
Pemberton Heights
Rollingwood
Shoal Creek
Steiner Ranch
Tarrytown
Travis Heights
Westlake
Zilker
Williamson County
Contact Info
Travis County:
512-732-2000
Bastrop County:
512-303-9000
Austen K. Smith
Master Plumber
License #M-38347
[email protected]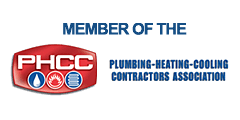 Professional Plumber Services in Austin & Round Rock, TX
Austen Plumbing Company strives to be an experienced and respected name in Austin, Texas, Bastrop, Round Rock and surrounding areas offering routine and emergency plumbing services to homes and offices across the central Texas area. Serving multiple cities in Bastrop County and Travis County, we offer an extensive and comprehensive range of services for small businesses, homeowners, and other property owners in the area.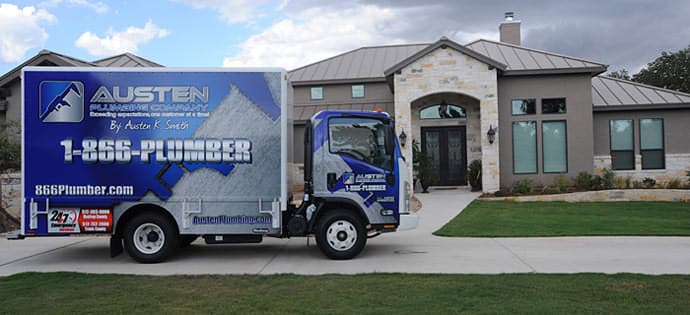 We specialize in providing industry standard plumbing installation services along with leak detection, video inspections, plumbing repair, pipe installation, and maintenance of water heaters, water softeners, garbage disposals, and sprinkler systems.
Austen Plumbing Company boasts extensive industry experience with highly trained technicians capable of servicing all types of residential and commercial plumbing.
We also offer leak detection and repair services for gas lines to ensure the safety of your family and home.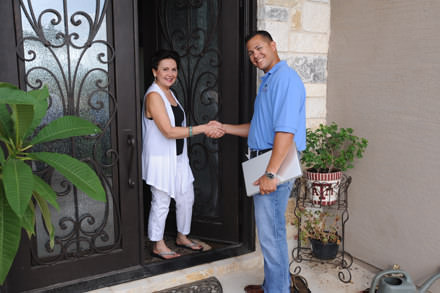 With our complete range of plumbing services, we can handle all of your needs. We offer expert and timely repair for damaged pipes, leaking pipes, fittings and more so we can ensure all of your plumbing needs are met. To learn more about why you should choose Austen Plumbing Company as your plumber in Austin, TX and Bastrop, TX, contact us online or by phone in Travis County at 512-732-2000 and Bastrop County at 512-303-9000.
Why Should You Rely on Austen Plumbing Company?
We are committed to providing professional services for homes and commercial customers located in and around Bastrop, Austin and Round Rock, Texas. We strive to develop a loyal customer base that can rely on our expertise to satisfy their needs. Here are some reasons why you should contact us today.
18+ years of industry experience
Quality and reliable services
Residential and commercial plumbing service
24/7 emergency services
Affordable service and repair packages
Customized plumbing solutions
Trained and certified plumbers
Free service / product estimate
Whether it's a routine pipe repair, fixture replacement or an emergency repair, our experienced plumbers are equipped to handle any situation. We take pride in our quality of work and reliability. When you call us our experts will diagnose, resolve, and provide invaluable tips on extending the lifespan of your home's plumbing system.
Services Offered by Austen Plumbing Company
We provide a complete range of plumbing services for both residential and commercial customers in and around Austin, Bastrop and Round Rock, TX. Our customers appreciate that we provide preferred service agreements, annual home inspections, emergency repairs and upfront pricing. Here are a few more services we provide: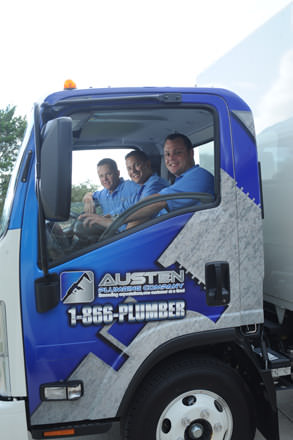 Our services include:
Water heater repair, maintenance, and installation
Faucet and toilet repair, maintenance, and installation
Backflow testing and installation
Sewer pipe inspections & repairs
Sprinkler system repair, maintenance, and installation
Garbage disposal repair, maintenance, and installation
Emergency plumbing and repair service
Drain cleaning and unclogging
Dishwasher repair, maintenance, and installation
Electronic leak detection
Slab leak detection
Water purification and filtration system repair, maintenance, and installation
Water softener system repair, maintenance, and installation
Comprehensive water testing
Apart from providing expert and professional services, we also sell an extensive range of plumbing equipment including tankless water heaters, water softening and purification systems, garbage disposals, and more. Not only can we help you select the product that best fits your needs, we can also install, repair, and maintain your equipment to help increase it's life span and reliability. Our technicians can offer valuable advice when it comes to cleaning, maintaining, and repairing equipment and appliances in your home.
Contact Us Today for Expert Plumber Services
Based out of Bastrop, we are proud to offer professional services to residential and commercial customers located throughout Bastrop County and Travis County. For more details about our services and how we can help you, contact our professional customer support staff today in Travis County at 512-732-2000, in Bastrop County at 512-303-9000 or contact us online. As a leading company in Austin, Round Rock and Bastrop, TX, you can rely on us to serve your needs for everything from a routine installation to a late night emergency call.